Design sticky note pads online
With sticky notes you won't forget anything! Whether in the office, in everyday home life, at university or at school, the small sticky notes are versatile and quite simply, practical. It's no coincidence that these self-adhesive notepads are popular marketing materials. Here at Easyprint you can easily design sticky note pads online and have them printed with your design at a reasonable price.
Designing sticky note pads online is super easy with Easyprint. With our FreeDesign tool it only takes a few clicks to design your sticky notes from scratch. In the handy format of 50 x 72 mm portrait, 72 x 72 mm, 100 x 72 mm landscape, these sticky note pads are ideal for office or home. Your designs are printed on high-quality 70 gsm white self-adhesive paper. You will receive your sticky notes in a practical block of 50 or 100 sheets. You can order from as little as 50 blocks.at a time so ideal if you just want a few.
Design your office accessories yourself with individually designed sticky note pads
Do you think that office supplies are always so boring and could use a bit of a twist? Then start designing your individual sticky notes with Easyprint! You can use our FreeDesign tool without any previous knowledge or experience, it really is that easy. If you already have a fun design or your company logo at hand, you can upload it and we will print it onto your sticky notes. Our free tools can do much more too, our database is bursting with great layouts and photos. Thematically sorted, you can choose from many different themes, simply choose the template that you like best for your sticky note pads and add in your text or logo. You can also easily create and compare several variants, because the online design with our FreeDesign tool is completely free no matter how much you use it! You simply pay for the printed pads.
Create your own sticky note pads for school or university
Learning can be so dull, but it doesn't have to be! Because with your individually designed sticky notes, you can stick your own motivational or reminder notes wherever you need them. For example, write difficult vocabulary on a sticky note and stick it on the mirror in the hallway or the bathroom mirror. You'll learn new words almost automatically. You can also do this with definitions, formulas or other learning content. When doing your homework, sticky notes can be used perfectly to mark important places in books without scribbling around in library books, for example. the uses are endless! With Easyprint, you can now create your own sticky note pads online very easily. Your classmates or co-students will marvel at your cool organisation or your funny little personalised notes.
Create sticky note pads yourself for promotional gifts
Maybe you are a small company and are looking for a very practical promotional gift for your customers? Sticky note pads are always a great solution. Why? Because the small sticky notes are so practical that they remain in full view of your customers, each time they write a note they are reminded of you or your company. At home a note with a small greeting or some key information for your partner on the fridge is very common, as a reminder on the PC screen, as an aid to find your favourite dishes in the recipe book or to mark documents - sticky notes are still up-to-date, practical and now, they can be unique to you.If your target group uses sticky notes printed with your logo and company address, you'll always be present. Your services or products will be visible down to the very last sticky note. So don't hesitate and start designing your sticky note pads online with our FreeDesign tool. Once you're done, we'll take care of the printing professionally. Not only do you benefit from low prices, but also from excellent paper and print quality, whether you order 50 or 250 pads.
Front page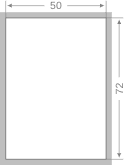 Back page