Design folding photo cards online
Christmas greetings or birthday wishes can be sent stylishly with a personalised card. Have you considered self-designed photo cards? At Easyprint you can design your individual folded photo greetings cards online, and have them printed at great prices!
We produce photo folding cards in the classic greeting card formats A6 (105 x 148 millimetres), DL (105 x 210 millimetres) and A5 (148 x 210 millimetres). With a photo card in A6, you are choosing the most popular format. If you want to send the cards in a long envelope, DL is the best format.
We can print all cards for you in landscape or portrait format. You have the choice of designing all four pages or leaving the inside blank. The latter option has the advantage that you can write your personal greetings there later by hand or, depending on your choice of paper, print onto them with a standard printer.
There are four paper types to choose from for your photo folding cards. By default we print your photo cards on 350 gsm thick paper. If you want your cards to look even more elegant, we recommend 400 gsm premium coated art paper. Do you want to write onto your cards later yourself with pens? You should choose the 400 gsm offset paper if so. We also offer you white recycled paper in a weight of 300 gsm for printing, ideal if the protection of nature is close to your heart.
Cellophane wrapping is especially recommended for greeting cards with photos. You have the choice between glossy or matt films, that we use to laminate the cards. To also make the surface of your products special, you can choose between soft-touch or linen textured film.
Create your own folding cards with personal photos effortlessly
With our FreeDesign tool, all you need is a computer with internet access and your photos. With just a few clicks you can select the format of the card that you want and then design onto the pages. You don't need any previous knowledge to work with the FreeDesign tool. All steps are very self-explanatory.
You simply upload your pictures into the layout of your photo card. If you want to add text, it's also very easy. Simply start the text editor and select the desired font colour and type away.
To add the professional touches to your photo cards you are welcome use our huge photo database. Here you have countless templates and photos at your disposal. The use is completely free of charge. To make it easier for you to find the right templated graphics, the pictures are sorted by theme and occasion.
Surprise friends and customers with self-designed photo cards
How about creating your own photo folding cards with beautiful images from your last holiday and sending them as personal greeting cards for birthday, wedding or other occasions? With Easyprint, your personal photo card is quickly created and you never have to resort to boring Christmas cards, thank you cards or invitation cards ever again.
Of course, Easyprint is also a great way to send your customers a personalised Christmas card or greeting cards. Add your logo to the card with just a few clicks or use a picture of your team for Christmas greetings. Let your creativity run wild with the FreeDesign tool!
Create your own photo folding cards online now and let Easyprint print them for you!
Do you want to create more products with your designs? Then use the FreeDesign tool to design your personal photo book or photo calendar too!
Outside pages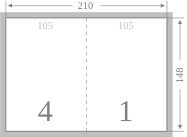 Inside pages