Design letterheads online
Letterheads can be used in many ways - for invoices, customer letters, quotes and marketing, but of course also for the love of letters... Get your unmistakable personalised stationery here! With Easyprint's handy FreeDesign tool, you can easily design your own stationery online for business or personal use.
We print your stationery on high-quality A4 offset paper as standard. It is available at EasyPrint in 90 gsm weight. The advantage of this inexpensive paper is that it can be easily processed in the printer. For example, you can print letterheads with your address and an individual letterhead, and later print them out in the office with the recipient's address and the letter content.
Simply design your own letterhead online on one or two pages
With the FreeDesign tool from Easyprint you are only a few clicks away from your individual stationery. You have many great design or photo templates to choose from for a wide variety of themes or occasions. Looking for inspiration for a great wedding invitation? No problem, the FreeDesign tool provides you with elegant or playful design templates free of charge. However, if you are creating letterheads for business purposes we also have great professional templates. Whatever the need, we have many options to choose from. When designing your stationary, you also have the option to print on the backside, like the front, just create your design in FreeDesign. With the FreeDesign tool you can browse the wide range of design templates and photos free of charge and to your heart's content. You can also upload your own templates, graphics or pictures and combine them with our suggestions and create your own unique design with a little help from us. All design tools and templates are free, you only pay for the print. It's that easy!
It's easy to design and order your own stationery
You can design and order individual letterheads from one copy onwards at Easyprint. 50 to 100 pieces are usually suitable for private persons who want to surprise their guests with specially designed invitations for a celebration. Of course, it's also great if you equip your letters with your letterhead to make "official" mail to authorities or employers more look professional. No more pushing and fumbling on your PC to add the address bar to your letters. Because the most important basic data is already available. By the way, you can easily print onto your self-designed stationery with a conventional printer, making printed letters look amazing! If you have your own company and frequently send out invoices or offers to customers, we can also print several thousand units of letters for you. Simply select the desired quantity in the configurator. A tip: The more letterheads you order, the cheaper the unit price will be.
Start the FreeDesign tool right here and design your letterheads online. Whether for business mail or private letters, with Easyprint you can create any design to suit your requirements, easily and cheaply thanks to our attractive design templates!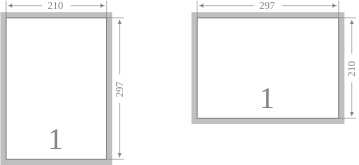 Final size in mm (Set type and images 1,5 mm away from edge.)

Bleed of 2 mm has to be added