Design greeting cards online
What are SMS or mails compared to a real greeting card made of paper? With Easyprint, you can easily design your own custom greeting cards online, have them printed by us, and then surprise your friends, family, or customers with them.
You can create greeting cards at Easyprint in four different formats. The standard format for these cards is A6 (105 x 148 mm). If the greeting card is to be sent with a long envelope, DIN-Long (105 x 210 millimetres) is the ideal format. To give your greetings a special touch, you should create greeting cards as maxi cards (125 x 235 millimetres). Cards in A5 (148 x 210 millimetres) are slightly wider, but shorter.
Regardless of the format, we can print your greeting cards in landscape or portrait format. You also have the choice of designing the front or both sides. With one-sided printing, the back is completely blank, leaving room for handwritten greetings or a personal message, for example.
There are five paper options for printing your cards. Standard is premium image printing paper in a grammage of 350 g/m². The premium picture printing board with a density of 400 g/m² looks even more elegant. Our chromo cardboard is very elegant. At 300 g/m² it is slightly thinner. If you want to process your greeting cards with a printer later on (to add bulk messages to lots of cards), e.g. to insert an address, you should choose offset paper. It has a robust grammage of 400 g/m². For the environmentally conscious, Easyprint of course also has white recycled paper with 300 g/m² in its range. All papers are available in both glossy and matt.
A cellophane finish is recommended, especially for greeting cards. We cover the card with a matt or glossy foil. This lamination not only makes the product more visually appealing, but also more stable. To achieve an additional pleasant haptic effect, the best choice is cellophane wrapping with a soft-touch surface or linen texture.
Create greeting cards online with your own design in just a few clicks
Don't have a photo or a graphic to hand? No problem. Simply start the FreeDesign tool right away and start designing your greeting cards. You'll see how easy it is. You don't need expensive image editing software or previous knowledge. The tool is self-explanatory and can be used immediately.
With the text editor you insert texts in the appropriate font, size and color at the desired position and upload your images to the tool.
If you want to complete your designs, you can use Easyprint's extensive image database. Our service: Both the FreeDesign tool and the templates and images are free of charge. So you can let your creativity run wild!
Greeting cards for many occasions such as birthdays, Christmas or special offers
With the FreeDesign tool, not only private individuals can design their greeting cards online, but also companies. The practical cards are just as suitable for wedding or birthday greetings as for Christmas greeting cards or invitation cards, but can also be used as corporate greetings, we supply both low and high quantity for this reason.
Thanks to the high product quality, the greeting cards are ideally suited for both private and professional purposes. Even with larger quantities, our print shop does not have any capacity problems. We can produce up to 10,000 of your greeting cards per order for you.
Create your own greeting cards online now and let Easyprint print them for you, all at a great price and in first-class quality!
Do you want to design more products online? Then create postcards or folding cards with your design and photos. The FreeDesign tool makes it easy!
Outside pages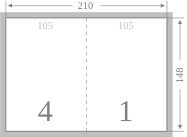 Inside pages