Design and print your own birth cards
There is probably nothing more beautiful than the news of the birth of a new little one. Design your birth cards easily online, individually with your motifs and texts. We will take care of first-class printing.
We offer three formats for the design of your birth cards, each of which can be designed in landscape or portrait format. You can choose to design the folded card on one side, on both sides or on all four sides. We are sure that you have already found your motif for the first side! You can choose between DIN A5, DIN long or the "classic" folding card format DIN A6. These formats are particularly suitable as they are easy to send by post with a matching envelope.
There are three different types of paper to choose from: Premium coated art paper in thicknesses from a fine 135 to a robust 400 gsm, uncoated paper in three thicknesses or organic paper. All picture papers except the cardboard can be configured in gloss or matt. They are particularly suitable for a brilliant colour depth of photos. But of course, organic or natural-coloured paper also have their own charm, especially for a birth, as they radiate a high degree of naturalness and with the organic variant you even underline your claim to sustainability.
For a more appealing look and additional protection, all papers can be cellophaned. The printing is done in CMYK which offers you maximum flexibility in the choice of motif and colour design.
If you want to design your birth cards with individual graphics and motifs, you only need two things: a computer or tablet and an internet connection. Simply start our FreeDesign tool on our website and start designing straight away. The tool is very intuitive to use. So you don't need to know anything about graphic design to create individual, personal and beautiful birth cards.
Which paper should I choose for the birth cards?
Since this is a very special moment in your life or in the life of a couple, we have already made a pre-selection of high-quality papers for you. Of course, a higher grammage of paper will look very stable and elegant, but at the same time it is not as stiff as cardboard. With organic or natural paper you can give your birth cards an additional message.
If you are a reseller and would like to print your own creations, you will of course always be right with all our high-quality papers.
We print your birth cards from just 25 pieces
You want to tell as many people as possible that you've had a baby, don't you? Then the 25 birth cards are probably not enough anyway. After all, we can print these cards for you from this quantity. If you would like to share your joy with the whole world, or if you have created an ingenious design yourself as a reseller, we will be happy to print up to 10,000 cards per order for you. If you need the products even faster, simply select express delivery in the configurator for an additional charge. The price is then automatically adjusted.
Simply design your own individual and cute birth cards online and have them printed by us - it's that easy.
Outside pages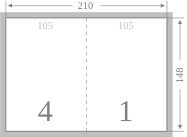 Inside pages