Design congratulation cards online
Do you find the usual congratulation cards too boring? Then design your own! With Easyprint you can easily create beautiful congratulation cards online and let us print them for you.
For the printing of congratulation cards we use four different paper types with grammages of over 300 gsm in matt or glossy effects. This makes your cards look stable and of really high quality. You can choose our standard classic picture printing paper with a thickness of 350 gsm. It is perfect for photo printing as it offers excellent colour reproduction. With the 400 gsm thick premium cardboard, you can rely on a very attractive material that gives your congratulation cards that special something. If you would like to print the cards yourself later, e.g. with a personalised salutation or an individual text, we recommend our offset paper. If the environment is particularly important to you when designing congratulation cards, you should choose the 300 gsm white recycled paper.
At Easyprint you can configure and order congratulation cards that are printed on four sides inside and outside or only outside. There are three formats to choose from. The practical long (105 x 210 millimetres) is ideal for sending congratulations in long envelopes. Classics are the A5 greeting cards (148 x 210 millimetres). If you want the card to be a little smaller, choose the A6 format (105 x 148 millimetres).
The card can be printed in landscape or portrait format. You should take this into account when designing your card.
To make your card even more attractive, we offer cellophane coatings and laminations. The card is covered with matt or glossy foil. A lamination with soft-touch foil or foil with linen structure creates a great haptic effect.
Create congratulation cards online in just a few clicks
With Easyprint, you don't have to be a trained graphic designer or learn complicated image editing software to create your own congratulation cards. Just start the FreeDesign tool and get started. All you need is an internet connection and a computer. Everything is self-explanatory, easy each step of the way!.
Once you've chosen the format and paper you want, you're ready to get creative. Inserting text is easy, simply start the text editor. There you can choose from many different fonts and font colours, which you can insert into the layout. Background colours or motifs can be integrated just as easily. Your advantage with Easyprint: If you don't have your own motifs for the upload at hand, you can simply access our huge free image database. There you will find countless templates and images free of charge. Just start the editor and discover many varied designs to choose from.
With the FreeDesign tool you can create and compare different congratulation card designs online without any costs for you. Then select the best version of your creative work and let us print it for you. You simply pay for the print.
Create personal or business congratulation cards
With Easyprint, you can create congratulation cards for weddings, births or other occasions quickly and easily without having to sacrifice excellent print quality and attractive design. The cards are perfect for sending individual congratulations to friends or relatives. Printing is possible from as little as one card. Of course, our print shop also has sufficient capacity to print up to 1,000 greeting cards for you per order.
Create your own congratulation cards online now and have Easyprint print them cheaply and in top quality!
Would you like to create other products just as easily yourself? Then try out the FreeDesign tool for invitation cards, greeting cards, birthday cards or Christmas cards!
Outside pages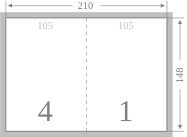 Inside pages