Design stickers online
Personalised stickers are a very neat way to promote your brand or message. Design your outdoor or indoor stickers here online, in just a few clicks you can take advantage of the versatility of these unique print products!
We print your stickers in four different sizes. With the round stickers you can choose between a diameter of 40 millimetres or 80 millimetres. For rectangular stickers you can choose from a wide range of formats. The oval sticker in 145 x 95 mm format is also very popular. No matter which design you want to print, with us you can easily select the desired size with a simple click and design your stickers online, it's as easy as that!
"The free to use FreeDesign tool is on hand to help you along. We have already uploaded many great layouts and design ideas for you and sorted them according to occasions. Need a fun sticker for your wedding? No problem, the design tool shows you a few ideas with just one click. You want a serious advertising sticker for your company? Great! You will be able to access suitable motifs to add to your logo in a flash. The good thing about it: You can design as much as you want. Our design tools and all templates are free of charge, you simply pay for the sticker printing.
Stickers for inside or outside
Where do you want to use your stickers? With us you have the choice between white adhesive film for outside or white adhesive paper for inside. The adhesive film has the advantage that an occasional rain shower won't destroy your sticker. You can easily design Easyprint stickers online for your next marketing campaign. Of course adhesive stickers can be used for a variety of purposes, you can also use outdoor stickers to mark your company's tools or shipping boxes, or to brand products.
The robust adhesive paper is the standard material for all stickers that are to be used primarily indoors. Many people design their stickers online to stick them on products, like jam jars, folders or boxes. Of course you can also choose a cool slogan and use the stickers as advertising material. By the way, individually printed stickers are also very popular for giving Christmas presents with their names or best wishes to family groups.
We print starting from 1 sticker
With Easyprint you can choose to print many products in low right through to high quantities. People will love your stickers with your design and they will run out faster than you think. It's no problem for our print shop because we can produce up to 10,000 pieces at a time per print job. And if it has to go faster, because that deadline is just around the corner or the marketing department would like to have everything yesterday, we can help you. Just choose the priority option (for a small surcharge) and we'll hurry with the printing and shipping along for you for a speedier delivery.
But no matter which variant and quantity you decide on, with Easyprint you can always count on low prices and perfect print quality. Create your own stickers and have them printed - it couldn't be easier!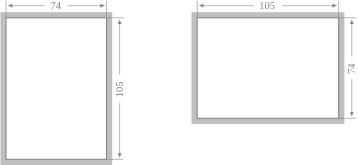 Final size in mm (Set type and images 1,5 mm away from edge.)

Bleed of 2 mm has to be added