Design menus online
Do you have a restaurant, bar or would like to inform your guests about the food and drinks at an event or a wedding? You can now use Easyprint to design your own menus and have them printed cheaply.
At Easyprint you can design menus in seven different formats. Besides the classic sizes like A4 (210 x 297 millimetres) and A5 (148 x 210 millimetres), we also offer other rectangular formats that differ from the DIN standard. All menus in DIN format have the advantage that they can be filed in a standard folder or sent in a standard envelope.
Our 105 x 148 mm menus are very handy. The 105 x 297 millimetre format is ideal for ice cream or snack menus, while the 120 x 120 millimetre square menu is ideal for attracting additional attention. The cards in 100 x 210 or 105 x 210 millimetre are also handy formats. All menus can be printed in portrait or landscape format.
We use high-quality coated art paper in 170, 250 or 350 gsm grammages. By the way, all papers are available in glossy or matt. You have the choice from within the design tools! In addition, you can decide whether you want to create one-sided, two-, four- or six-page menus.
Depending on the desired design, we will cut, groove or fold your menus. You can choose between a single fold, a letter fold or a zig-zag fold. The zig-zag is particularly suitable for current offers or seasonal recommendations.
If you would like to make your menus even more robust and at the same time even more visually appealing, cellophane coating is a good option. We laminate your menus with glossy or matt foil. If you want your guests to experience a pleasant haptic effect when looking at the food or drink selection, you should choose Softtouch or linen texture laminations from the options.
Print from as little as 25 menus up to 250 pieces per order in our modern print shop. Easy as that!
Create your own menus online in no time at all
Quickly create a menu for seasonal offers or design the new cocktail menu yourself. With Easyprint's FreeDesign tool this is easy. You can create attractive and professional menus online in just a few moments. You don't need expensive software or extensive previous knowledge in design. Freedesign is very intuitive and will guide you step by step.
Simply select the desired product and start designing. Your photos or graphics can be uploaded into the layout in no time at all. With the text editor you can easily edit text elements such as prices and food descriptions. Choose from many different fonts, colours and sizes.
If you need even more graphics, simply browse our huge free image database. There you will find graphics, illustrations, cliparts or backgrounds sorted by themes and occasions, which you can add to your print file.
For restaurants, weddings or events
Your own menus are not only suitable for professional catering purposes, but also for personal events such as weddings or big birthday parties. With Easyprint, the creation of individual beverage or menu cards is so easy that anyone can start designing, quickly and easily.
Create menus online now and have Easyprint print them for you at an affordable price!
Do you need more custom products with your design for your restaurant or bar? Then create matching business cards or flyers online.
Outside pages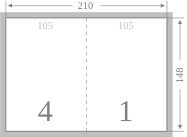 Inside pages