Design folding cards online
To send stylish invitations or greetings, you no longer have to resort to shop bought cards. Because with Easyprint you can design your very own cards in just a few clicks. You can use our free design tool without any previous design knowledge and there are many great free templates available to help you along!
Let's be honest. Whoever hears the words "folded greetings card" does not necessarily think of an exciting and creative product. But you can change that quickly by creating your very own personalised greetings cards. Easyprint's FreeDesign tool allows you to create truly unique personalised cards for every occasion. Whether with your own design, or with one of the many extraordinary templates and countless free photos, you can make your invitations or greeting cards into something really special. For your customers, friends, relatives or business partners, you can create serious, unusual, personal and creative cards for a variety of occasions online in no time at all. You can polish them as long as you want and try different designs, but you don't have to pay for the design at all, you simply pay for the printed cards.
Create custom folding cards online for a wide variety of occasions
This year you want to send your loyal customers a beautifully designed Christmas card? Or do you want to surprise your friends and relatives with Christmas cards you designed yourself, with family images? Or did you just get married and want to say "thank you" to your guests in a perfect way? As you can see from these three examples, the design possibilities for folding cards are enormous. The nice thing about it: With Easyprint you can let your creativity run wild. We offer you a huge amount of beautiful design templates that you can choose from. The layout automatically adjusts to the standard size of 105 x 210 millimeters in landscape or portrait format.
The practical thing about this format is that after printing, the cards fit perfectly in standard envelopes. It's so easy to send your personalised folded cards.
Choose the right paper for your folding cards
With 350 gsm glossy or matt coated art paper, you're choosing an inexpensive option that's suitable for photo printing. In the matt version, your own photos on the outside of the folding card can look very appealing, for example for birthday invitations. For especially noble cards we recommend the 400 gsm coated art paper premium cardboard. The 350 gsm offset paper is characterised by its high whiteness and opacity and can be written over with pen, important if you wish to sign them personally. For environmentally conscious customers we offer the particularly eco-friendly 300 gsm recycled paper. It has the "Blue Angel" certificate and this feature is a positive for customers who care, especially important with large shipments.
We also recommend our refining options. Especially the outer sides of your folding cards can literally make a shiny impression with glossy varnish or glossy foil and look even more elegant. If the card is covered with matt foil, it is surrounded by a touch of noble understatement, gloss adds a vibrancy to the feel.
Create and print folding cards online from as little as one card
We are a modern printing house with flexible capacities. So we can print single folding cards as well as 1,000 folding cards per order. You benefit from our excellent print quality at reasonable prices for any quantity.
Convinced? Then get started right away and design your folding cards online with our free FreeDesign tool. We'll take care of the printing professionally. By the way, if you need your cards particularly quickly, you can select the priority option in the configurator for an extra charge.
Outside pages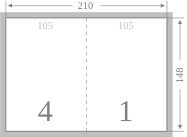 Inside pages