Throughout the years, cinema went from being a hobby to one of the biggest entertainment industry, generating billions every year. However the movie industry is sometimes much more than "just" a movie! There are so many "underground" jobs that help turn a film into a magical experience, thanks to artists' creativity.
One of them includes drawing the poster and is one of those known (and unknown) tasks that cinema requires talented artists to do. Posters give the movie its identity alongside a particular design, text and pictures. You might be one of these people covering their walls with posters but do you really know the people behind these works of art?
Easyprint met Flore Maquin, a French graphic designer and a true cinema and TV series fan. Alongside designing posters for festivals, she recently got noticed for her amazing creations, paying a tribute to cult movies and TV shows.
Silence! Motor! Action!
Who are you and what is your story?
Hello, Easyprint! My name is Flore Maquin. I'm 25 year-old and I've been living in Lyon for 4 years now. I'm from a city called "Aix-en-Provence".
My story is quite different from a classic graphic designer story. I first started with a travel and tourism course then went for a 1-year course to become an artistic director at "Ecole de Communication Sup de Pub Lyon". Design appeared in my life as I was to do some brochures for my travel & tourism course. I remember I was a bit more passionate about the aesthetic side of it than anything else. This is when my use of graphic softwares began. I'm a self-taught person and this is how I started doing my own creations. I first did it for my city of Lambesc, then for music organizations and so on.
In 2014, I joined the Institut Lumière team during its festival dedicated to Pedro Almodovar. I then had the opportunity to work in and for the movie industry. I'm doing it again for the 2015 edition of this festival.
Where is your passion for movie posters coming from?
Since I can remember, cinema has always been part of my life. I love it but I never would have thought I would work in this industry one day. My work experiences come mostly from the advertising and cultural industries. In my opinion, movie posters are the medium between them. What is the first thing we see in a movie? Its poster. It is its window display, what's advertising it.
I've always been fascinated by what a movie poster represents. How can a script be told in just one single picture. To me, this is such a big challenge for a graphic designer. Mixing a modern aesthetic to a somewhat complicated story is sometimes not easy to explain in just one sentence. What will happen if the poster shows a romantic comedy but we realize, in the middle of it, it is actually a dramatic story? The audience's eye and opinion toward this movie poster will then be very important. In my opinion, the movie poster plays a big role in how the movie will be perceived.
What is the first movie poster you created? Your favorite one?
I don't really remember. I first started drawing the characters I liked and then said to myself "What if I put a title or another character in it?". This is how I began thinking about a story I could tell through a picture. Fight Club is a good example. I might spoil the movie to those who haven't seen it but I wanted to highlight the fact that Brad Pitt's character is only the shadow of Edward Norton's. I wanted to insert a few details: Norton's cigarette, for instance, is pointing down symbolizing his tiredness, exasperation, depression… Brad Pitt's is pointing up as he is a daring man, that stands up against people, who isn't afraid of anything. I like these types of details. Maybe it isn't something you can see in a glance.
If you have a look at some movie posters, you will have some of these elements. Martin Scorsese's Shutter Island depicts Leonardo DiCaprio's character holding a match in his hand. It is casting a light onto his face. There are so many things to say about this poster but let's take, for example, the restless sea. this little detail we're only just witnessing is pointing out towards a rather eventful intrigue. Moreover, the clouds around DiCaprio's face give us an important information regarding the movie's atmosphere: it is tormented.

How do you choose the movies and TV shows you're gonna make a poster of?
I mostly choose movies that really made an impression on me. This is a quite intimate thing as this reflects my sensitivity. It's like saying "here you can find my cinema". I like the characters I draw because they had an impact on my life. I like their personalities and that's why I want to draw them so much. I'm sometimes thinking "I'd like to create something with this character".
Who inspired you in being an artist? Which modern artists do you admire?
I can think of so many! This would be quite difficult to talk about all of them. I like Ian Jepson so much with his very colored and detailed creations, using some amazing typographies. The artworks of The Dark Inker offer yet another style through his movie posters and it's magnificent!
With the exception of Saul Bass (designer of title sequences and posters for Hitchcock, Scorsese, Kubrick…), movie poster artists are still quite unknown from the public. How do you explain that? What could be done for this not to happen?
I think that movie posters are part of the art industry. And as we know art is a subjective matter. Everyone has his own taste and we shouldn't forget that a movie poster is also an advertisement. Maybe the marketing side of it has a bigger place than the aesthetic one. Some people can fear a too pronounced artistic style. As in advertising, you have a budget and who says budget says client. Maybe this is why Fan Arts are more and more present these days. Maybe people that loves cinema as I do are frustrated to not see their favorite filmmaker not trying to go a bit further with the art of movie posters. We shouldn't forget this is a very competitive industry. More and more people are entering the art industry therefore making it hard for some graphic designer to stand out of the crowd.
I guess that to make people show interest in this form of art, both the production and the graphic designer need to dare.
If you would give a César (the Oscar's French equivalent) or any other award to three of your favorite movie posters, which ones would they be?
I'm more into the American genre so let's say Oscars!
In my opinion, the first Oscar should go to The Grand Budapest Hotel movie poster (it is one I also have in my bedroom). Wes Anderson has such a particular style you can see in his posters. The one from The Grand Budapest Hotel is so original. You don't need any actors' pictures (even if you can see their names). The model of the hotel is fantastic and in itself says it all. It's clearly one that will stand out in the middle of other movie posters.
The second one should go to the first Alien movie (even if the other ones are really beautiful too). I really like sci-fi cinema and to me this movie poster is perfect. A black background to symbolize space, some shades of green and an egg: symbolism of the beast being born. I really think there's a real link between the egg and the role of the Alien in the movie. It's here but nobody really knows what it is. It's a little like the egg on this poster: we don't know what it is yet our attention is caught by it and we can guess this is dangerous.
The third one would be the poster from the new Godzilla movie. I think there were several movie posters done for this movie but one of them really got my attention: the one where you can see several soldiers jumping from the air to the center of San Francisco in the foreground and, in the background, a big and thick smoke cloud through which you can only see a few scales. I love this little detail as we are so used to see the creature in the center of the movie poster. Here it only appears as tiny, little suggested details, and this is what I like. The idea is very good. You can see there was some thinking behind it: "how could we show Godzilla without showing it?". This might have been a truly interesting brainstorming of ideas.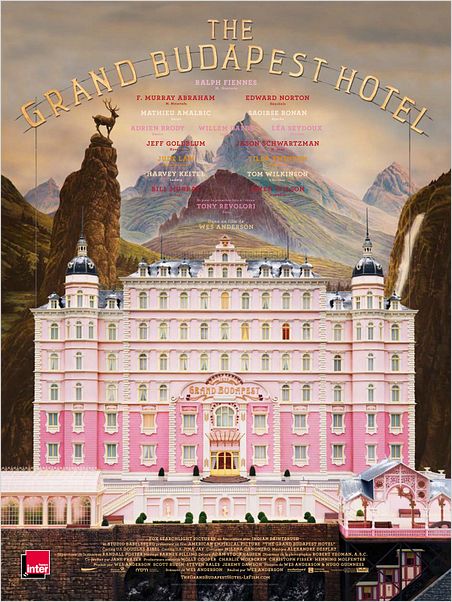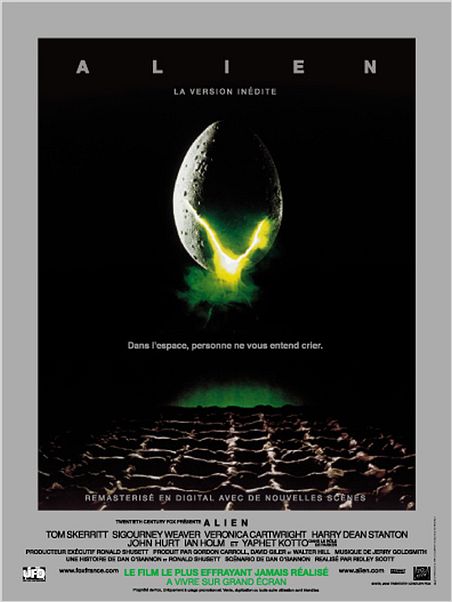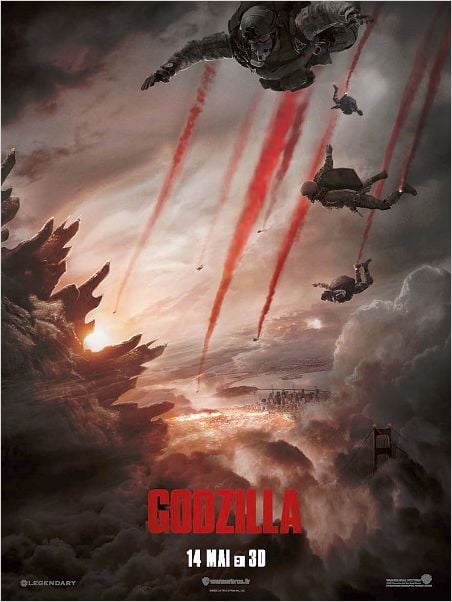 Your work doesn't stop here as you're also creating for some festivals or businesses through logos or varied designs. Is your work flow the same in every circumstances?
I like to think in a strategical way when I'm creating something. I like to have a precise idea behind a design. I had a teacher in Sup de Pub in Lyon that always used to say "what's the idea behind it?" and this for any project we were on. I'm happy to now have this little voice in my head that keeps repeating this same sentence. Whether this being for a movie poster or a logo, the theme must be treated carefully. You won't communicate for a sport event as you would a jazz music festival. This is the same for graphic design. You won't randomly choose a typography or a color. We want to send a very specific message, as for a movie poster.
What are the next movies or TV shows you are going to draw?
My inspiration can come whenever through a song, a beautiful photograph or simply a movie I want to see. I just finished a design related to Luc Besson's The Professional. Jean Reno and Nathalie Portman's faces really have a powerful impact on me. This is why I wanted to pay them a tribute on a new movie poster while keeping the daring look of Nathalie Portman's character and Jean Reno character's charisma.
For the next one, I'm thinking about villains. I love villains, their personalities, they way they look that make them different from anyone else. Why not having a try with Danny de Vito's Penguin in the Batman movie directed by Tim Burton or the incredible Marvel's Red Skull? We'll see how things go!
info
Name
Title

Next project
Links
Flore Maquin
Graphic designer

Comics villains
Some other cool movie posters !
French artists are very inspired by the world of cinema. Here are some other artists and their wonderful creations:
Vincent Roché – It Follows
David Amblard – The Wolf of Wall Street
Emilien Badoc – Jurassic Park
MBZKA – SOS Fantomes
Bonus: Don't click on this link if you don't want to spoil yourself some movies!

Don't forget you can also create your own poster here:

Create your own poster
A.B.